Dangerous mobile phone found in g.Ostrovets
Department of state supervision Lida Grodno Region Inspectorate Gosstandard during inspection and laboratory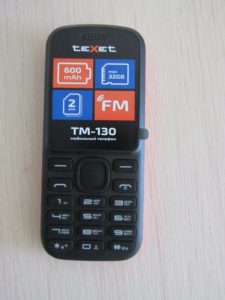 tests revealed dangerous Chinese-made mobile phone, which was sold in one of the shopping facilities g.Ostrovtsa.
tests have shown, that the mobile phone «TEXET», Model TM-130 did not meet the technical regulations of the Customs Union "Electromagnetic compatibility of technical means" (TR TS 020/2011) generated by electromagnetic interference: quasi-peak and average interference voltage at the mains terminals exceeded allowable levels. The charger is included in the kit did not comply with the requirements of technical regulations of the Customs Union "On safety of low voltage equipment" (TR TS 004/2011) on the requirements of the components and resistance to excessive heat, as well as the dielectric strength - during testing when subjected to high voltage between the primary and secondary circuit insulation breakdown occurred.
shopping facilities, which was implemented in these products, issued bans on its implementation, mobile phones and chargers are prohibited for importation and circulation on the territory of the Republic of Belarus, action regarding the assessment of the documents discontinued. Importer inappropriate cell phones and chargers notified, that such products should be removed from the shopping facilities, in which he had already put their.