Red ketchup from tomatoes or dyes?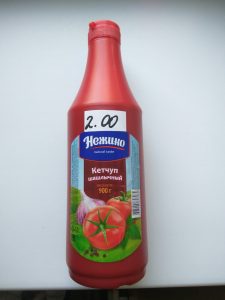 The Grodno Regional Inspectorate of the Gosstandart, during an inspection of one of the trading facilities of the Korelichi district, revealed dangerous products - tomato ketchup of the 2nd category "Shashlychny" marked "Nezhino", manufacturer
LLC "Tikhvin district", Russia.
Based on test results, carried out in the accredited testing laboratory of RUE "Scientific and Practical Center of Hygiene", that this product does not meet the requirements of the technical regulations of the Customs Union on labeling in terms of providing reliable information on the composition of the product and the absence of a warning label about the presence of dyes, affecting the activity and attention of children. In fact, the ketchup contains a synthetic dye discovered as a result of the tests: ponceau 4R (E124), not listed; no warning label "Contains dyes, which can have a negative impact on the activity and attention of children ".
Based on the results of the inspection, an order was sent to the importer to withdraw products from circulation. In order to strengthen state control over the quality of food products sold, information on detected violations, sent to the State Standard Inspectorate at the location of the importer, for taking measures in accordance with the current legislation of the Republic of Belarus.
Proposals have been sent to the State Committee of the Republic of Belarus on the inclusion of the specified ketchup in the register of dangerous products, as well as the termination of the Republic of Belarus Declaration of Conformity, which accompanied the products.