Dangerous rattles for the little ones
What could be safer than children's toys, with which very young children play? But it turns out, that these products may pose a threat and be dangerous !
When conducting an inspection by the Grodno Regional Inspectorate of the Gosstandart in one of the shopping facilities in the city. Ostrovets, Grodno Region, Russian-made rattles for babies of the STELLAR trademark were identified, не соответствующие требованиям технического регламента Таможенного союза ТР ТС 008/2011 «О безопасности игрушек» по безопасности.
При проведении испытаний указанных игрушек ударом произошло их разрушение с образованием мелких деталей, на кромках погремушек обнаружены ощутимые неровности (зазубрины), is not allowed.
В соответствии с нормами технического регламента игрушка и ее составные части, включая крепежные детали, должны выдерживать механические нагрузки, возникающие при использовании игрушки по назначению, при этом она не должна разрушаться и должна сохранять свои потребительские свойства; доступные кромки, острые концы, крепежные детали, углы, выступы и крепления игрушек должны исключать риск травмирования ребенка.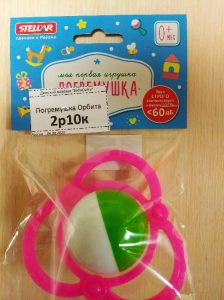 По результатам проверки инспекцией вынесено предписание об устранении нарушений, and the importers were sent instructions on organizing the removal of hazardous products from circulation.
Государственным комитетом по стандартизации Республики Беларусь выданы предписания на запрет ввоза и (or) handling of hazardous products, а также о прекращении действия на территории Республики Беларусь сертификата соответствия, которым сопровождалась данная продукция.
Информация об опасной продукции и прекращении действия документов о подтверждении соответствия на территории Республики Беларусь, can be obtained on the official website of Gosstandart, as well as in the Telegram messenger there is an official Gosstandart channel "Security and Quality" (@gosstandartby).