There is no corresponding certificates
Verification of conformity with the technical regulations of the Customs Union may be carried out in the form of certification or declaration in any member state of the Customs Union, and issued a document (a certificate of conformity or a declaration of conformity) It can be used in all countries of the Customs Union (Russian Federation, Republic of Belarus, The Republic of Kazakhstan, Republic of Kyrgyzstan, Republic of Armenia).
In conducting oversight activities are facts submitted audited entities do not exist conformity certificates or declarations of conformity.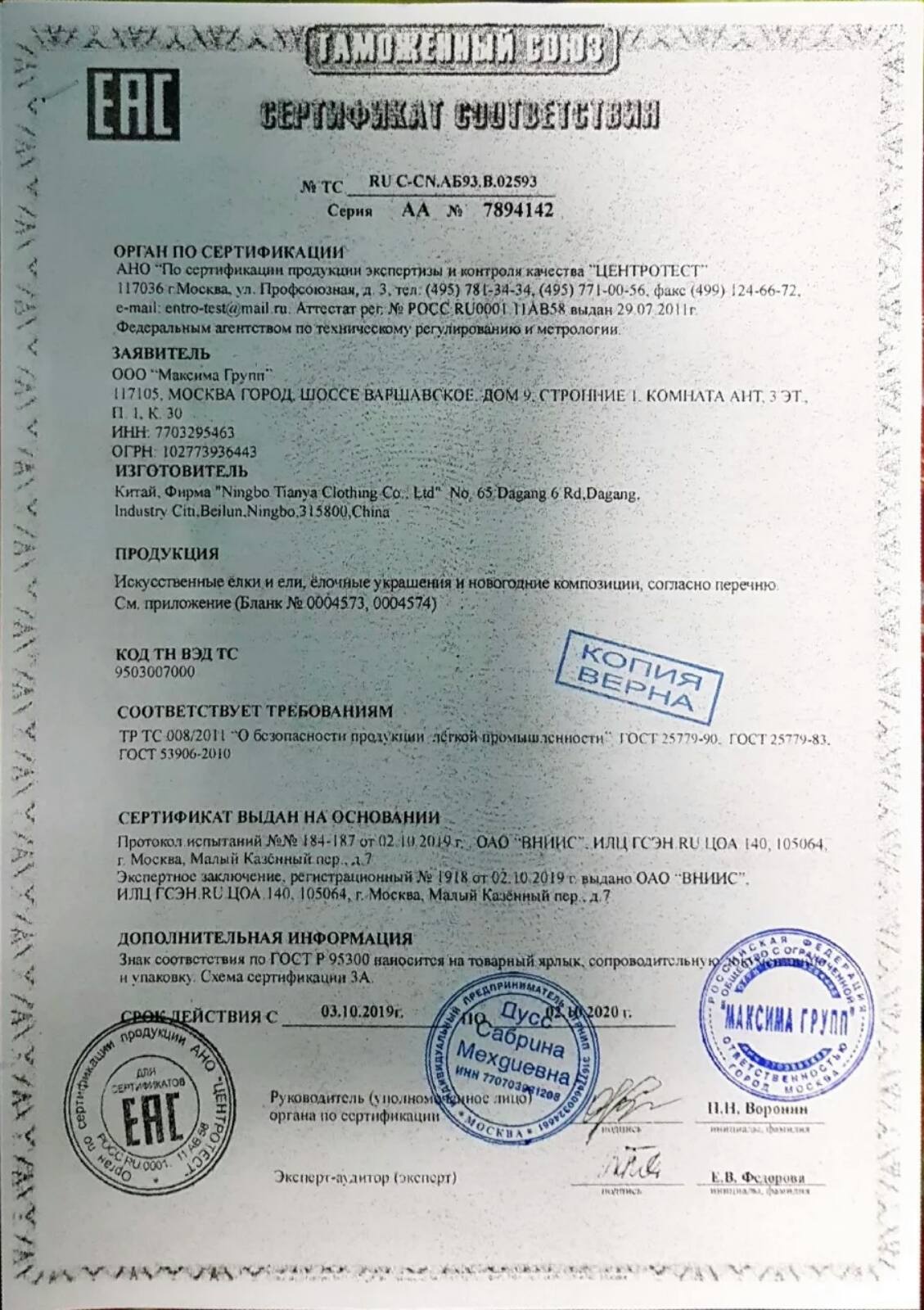 So, during one of the control measures, проведенных в городе Новогрудке, Гродненской областной инспекции Госстандарта была представлена копия сертификата соответствия на искусственные елки и ели, Christmas decorations, which in principle are not subject to mandatory conformity. The certificate indicated, that the products meet the requirements of technical regulations of the Customs Union "On safety of light industry products", but given the designation rules TR CU 008/2011, which is actually called "On Safety of Toys". After verification of the certificate by using the Internet resource "Unified register of issued certificates of conformity and registered declarations of conformity" posted on the website State Committee for Standardization in the public domain, it turned, that a number of the certificate does exist, however, he issued a completely different products - for a specified list of toys for children over three years. No information from the submitted certificate subject does not match the information in the register of issued certificates.
Such cases of misreporting of conformity assessment documents are not isolated and are fairly common. Often, trade organizations do not even doubt, that their existing documents are valid.
How do we determine the authenticity of the document?
The document should be on a secure form with water marks and have a registration number, eg: TC RU C-CN.NA27.V.00677. A copy of the document must be certified by appropriate. Check the validity of a certificate or declaration, you can use the above mentioned "Register". To do this,: select the country, which issued the certificate registered with the certification body, type of document (certificate or declaration), enter the number of the document. If in a single database provides information on the issued certificate, and it is fully consistent with the information, which is available on the letterhead – You can make an unambiguous conclusion about the validity of the document.
Each certification body has its own unique register number, such as NA27. It is this number must be included in the vehicle number of the certificate With RU-CN.on 27.AT.00677, form document must have watermarks or be certified by a duly, manufacturer's address is always specified zip, We shall refer to the test reports and other Applications.