What is the New Year without Christmas garlands?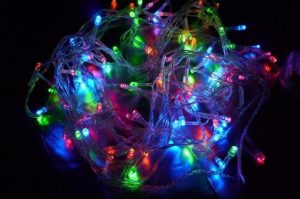 New Year – this, without a doubt, the kindest and brightest holiday of the year, which unites adults and children with incomprehensible magic. Clock striking midnight, fluffy tree, from which Christmas garlands hang with long vines.
It's hard to argue, that you need to decorate the house wisely. Choosing electric garlands, pay attention not only to design and color scheme, but also focus on their safety.
Buying garlands, remember, what are those, which are connected to the mains, are subject to mandatory certification. They are subject to the Technical Regulations of the Customs Union (TR TS 004/2011 "On the safety of low-voltage equipment", TR TS 020/2011 "Electromagnetic compatibility of technical means").
Therefore, you need to check before buying, is the manufacturer specified, his address, and address for claims from buyers, as well as product name, terms of use, specifications, product life, availability of instructions, get acquainted with the main consumer properties, type and characteristics of electric lamps, rated voltage of the garland. Labeling must be clear, easy to read and not misleading. The inscription should not be erased. Product should be turned on before purchasing, to understand, Are the modes working and are the lights on.
The wire must have a high quality, flexible and tight insulation. Besides, from the plug to the nearest light, the length of the wire must be at least 1,5 meters.
The seller, at the request of the buyer, must show the document, confirming the quality and safety of jewelry - certificate of conformity.
The Grodno Regional Inspectorate of the State Standard on the eve of the New Year holidays in the shopping facilities of the Grodno region carried out a number of control and supervisory measures, which established, что реализуемые гирлянды китайского производства не всегда соответствуют установленным требованиям по маркировке и по безопасности, and sellers often do not have conformity confirmation documents.
To subjects, selling garlands, not meeting the established requirements, appropriate measures were taken, and the products are prohibited for sale.
The consumer can receive information about dangerous products in the telegram-channel of the State Standard "Safety and Quality" @gosstandartby.