Open subscription to the magazine "Standardization" for the II half of the year 2021 g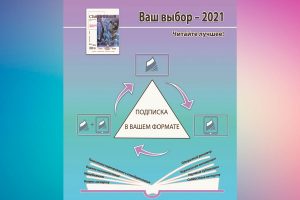 Over its almost thirty-year history, the magazine has become a reliable reference point in the world of information for representatives of various fields of production and services., necessary for the release of a safe, quality and competitive products. The publication seeks to become a platform, where specialists can exchange views on topical issues of production activities and find effective solutions to specific problems, get acquainted with new standards, technologies and best practices for their implementation.
Scientific and practical journal "Standardization" - the only publication in the Republic of Belarus, most fully covering the issues of technical regulation and standardization, оценки соответствия, аккредитации, надзора за соблюдением технических регламентов и стандартов, системного менеджмента и качества. These areas are key elements of the national quality infrastructure., the development of which is systematically reflected in the program "Quality 2021–2025".
The journal "Standardization" is included in the List of scientific publications of the Republic of Belarus for publishing the results of dissertation research in the scientific direction: "Technical science" (instrumentation, metrology and information-measuring devices; standardization and product quality management) and can be useful for promoting research and development.
The edition comes out with 1993 city, distributed by subscription, through the Integrated Information Support System (SKIO), at specialized exhibitions, conferences, seminars and presentations.
Frequency - six times a year.
Choose your subscription option on the BelGISS website following the link: https://belgiss.by/subscription-to-journal-standardization.