And milk, then no ...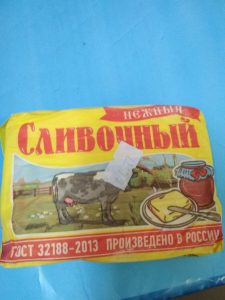 The Grodno Regional Inspectorate of the Gosstandart, when checking one of the shopping facilities of the Korelichi District, established, that there was food products in the trade - hard margarine of the MT "Rumyantsev and Kº" brand, cream, mass fraction of total fat 40%, net weight 150 city, does not meet the requirements of the technical regulations of the Customs Union "Technical regulations for fat and oil products" (TR TS 024/2011) and "Food products in terms of their labeling" (TR TS 022/2011). The manufacturer of these products is an individual entrepreneur from the Russian Federation.
In accordance with the requirements of these technical regulations of the Customs Union, it is not allowed to indicate components in the labeling of the name of food products, if they or their processed products are not included in the product. but, the manufacturer called the margarine "creamy", but forgot to include milk or at least milk processing products in the composition.
In view of such a violation, the State Committee for Standardization of the Republic of Belarus issued an order to prohibit the import and circulation of hazardous products, о прекращении действия на территории Республики Беларусь документов об оценке соответствия, withdrawal (withdrawal from circulation) products.
Information about hazardous products and the termination of validity of documents on confirmation of conformity in the territory of the Republic of Belarus can be obtained on the official website of Gosstandart, as well as in the Telegram messenger there is an official Gosstandart channel "Security and Quality" (@gosstandartby)