14 OCTOBER IS STANDARDIZATION DAY IN THE REPUBLIC OF BELARUS WORLD STANDARDIZATION DAY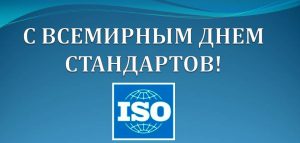 14 October, for half a century, the world scientific and technical community has been celebrating World Standardization Day.
In our country, this date is from 2000 g. It is a professional holiday - Day of Standardization, emphasizing the importance of this activity for the state, economy and society, Recognizing the contribution of thousands of professionals in its development.
Each year the festival is held all over the world under a certain theme. AT 2021 g. it sounds like: "Standards for Achieving the Sustainable Development Goals".
In their message, the heads of the three leading international standards organizations - IEC, ISO and ITU * - mark: Sustainable Development Goals (CUR), which are aimed at eliminating social inequality, developing a sustainable economy and reducing the pace of climate change, are very ambitious. Achieving them requires the cooperation of public and private partners., as well as using all available tools, including international standards and conformity assessment ".
Republic of Belarus along with 193 countries of the world approved the Agenda for Sustainable Development for the period up to 2030 g. (further - Agenda 2030) and conducts coordinated multi-level work to achieve the established 17 CUR.
Practical tools on various aspects of sustainable development provide standards. Their use contributes to the design and manufacture of safe and quality products and services., implementation of innovations and scientific and technological progress, reducing the negative impact on the environment, rational use of resources and development of trade and economic ties.
With information about specific state (STB, GUEST), as well as international standards, aimed at achieving the SDGs, can be found on the website of the National Foundation for Technical Normative Legal Acts (TNPA) in the special section "SDGs" at the link http://www.tnpa.by/#!/SustainableDevelopmentGoals.
Currently, the Republic is implementing a Perspective Plan for the development of state and interstate standards for the implementation of the SDGs for 2021 – 2030 the years, approved by Gosstandart. The document provides for the development 365 standards (297 STB and 68 GUEST).
AT 2021 g. more 50 standards, including for the implementation:
– Goals 2. Zero hunger - 16 standards;
– Goals 6. Clean water and sanitation - 16 standards;
– Goals 7. Affordable and clean energy - 9 standards;
– Goals 8. Decent work and economic growth - 1 standard;
– Goals 12. Responsible consumption and production - 4 standard;
– Goals 13. Fighting climate change - 5 standards.
At the same time it should be noted, that this plan is considered as a benchmark and is revised every year with a view to updating the developments in accordance with new international requirements and tasks of the socio-economic development of our country.
The fund of state standards in force today exceeds 30 000 documents. Of these, about 5 000 - this is STB, over 25 000 - GUEST.
AT 2021 g. more than 500 state standards (STB and GOST) and changes to them. Over 70 % of which are harmonized with international requirements, which contributes to the application of internationally recognized technical solutions, removing technical barriers, growth of export opportunities.
New developments related to mechanical engineering, electrical, chemical, construction, food and other industries, services, information technologies, management systems, creating a barrier-free environment. At the same time, the main task is to respond to current challenges and trends..
For instance, GOST will help to make the process of waste disposal and recycling even more efficient, setting safety requirements for design, manufacture and operation of machines for compacting waste or secondary raw materials.
One of the new methods is the briquetting method, which reduces waste by half or more, to be disposed of. This greatly facilitates their transportation., storage and disposal, increases the rationality of further use. For briquetting, special equipment is used - presses for compacting waste or secondary raw materials. They are used by waste recycling companies, business, logistic, entertainment and medical centers, industrial enterprises and other organizations.
The standards cover all significant hazards, that may arise during the operation of such machines - mechanical, electrical hazards, dangers, generated by noise, due to the risk of slipping or falling.
The introduction of standards will contribute to an increase in the technical level and quality of equipment produced in the republic., as well as effective solution of issues, associated with the disposal of garbage and secondary raw materials.
Electric transport develops in Belarus, the necessary infrastructure is being created. Charging stations are installed at gas stations and parking lots. Public transport is gradually being replaced by electric buses, the production of electric vehicles is being mastered. The set of standards being created for the requirements for electric transport, components for its production contributes to the development of this direction in the republic. This year it has increased by 28 documents.
Ensuring food security is a priority direction of the state policy of our republic. Belarusian food products are valued for their high quality, and to a large extent this is facilitated by the standards. This year comes into force 16 standards, one of which is GOST for baking wheat. By the way, the first all-union standard in the Soviet Union was approved 7 May 1926 g. OST 1 "Wheat. Selective grain varieties. Nomenclature". Into standards, eg, for sugar sweets, crackers, ice cream, curd snacks have been changed to update their requirements.
In general, more than 3 000 state standards.
Domestic perfumery and cosmetic products are appreciated by consumers as in our country, and abroad. A set of standards, developed for the implementation of the technical regulations of the Customs Union for perfumery and cosmetic products will contribute to maintaining the production of such products at a high modern level.
An active lifestyle is a necessary condition for maintaining and strengthening health. The regulatory framework for simulators has expanded, which are used in the training areas of organizations, eg, in sports associations, educational institutions, hotels, gyms, clubs, rehabilitation centers and studios, where access and control are regulated by the owner. WITH 1 February 2022 g. six new standards are introduced, which contain additional safety requirements, taking into account the specifics of simulators: for strength training, exercise bikes, treadmills, simulators, imitating rowing, walking up stairs and climbing. Their application will contribute to the implementation of the SDGs 3 "Good health and wellbeing" and providing the population with safe equipment for physical education and sports. New standards for water slides and parkour equipment will help ensure the safety of their use.
The list of state standards in light industry is also being updated. The expansion of test methods and an increase in their accuracy will be facilitated by the introduction of 1 December 2021 g. state standards, establishing methods for determining cashmere, wool, other fibers of animal origin and their mixtures in textile materials. These standards can be applied to confirm the conformity of the composition of textiles and products, information about which is indicated in the product labeling, and providing reliable information to consumers.
The set of standards has expanded to create a barrier-free environment for people with disabilities. for example, in standard, setting requirements for public passenger transport, construction requirements included, equipment, systems and devices of vehicles (support devices, orienting devices, landing aids and others), aimed at ensuring accessibility and safety for disabled passengers. The standard also contains requirements for equipping public passenger transport for people with visual disabilities with speech electronic informants with remote control., visually impaired persons activated using a personal device to obtain information about the route number and the direction of movement of a vehicle approaching a stopping point.
Another new standard sets out the main provisions and approaches for presenting information using clear language.. This method is intended to create a barrier-free communication environment for people with intellectual disabilities., as well as increasing the availability of services and the receipt of information by people, having difficulty reading or understanding the text.
The target audience of information in clear language is people: with intellectual disabilities; with speech impairment, memory, hearing; with poor reading and writing skills; with dementia; after brain injury or strokes; with a low level of education; who do not speak the language of the country well.
Clear language information can also be used to adapt legislation, banking and legal documents, social instructions, public transport routes, schemes of movement around the city, sightseeing maps, excursion texts, audio guides, other similar documents and programs.
Also noteworthy are the works, conducted jointly with state bodies to bring the current state standards and technical codes of established practice in accordance with the provisions of the Law of the Republic of Belarus "On ensuring the uniformity of measurements". Considering the significant number of documents, completion of work is scheduled for 2022 g.
Besides, work is carried out annually to assess the scientific and technical level of the fund of existing standards, after which a decision is made to amend or cancel them. More than 200 standards, whose requirements have ceased to be relevant.
Talking about technical regulation and standardization in general, It should be noted, what is currently accepted within the framework of the Eurasian integration space 50 unified technical regulations of the EAEU (hereinafter - TR EAEU), 44 of which entered into force.
According to the new edition of the plan for the development of the EAEU TR and amendments to them will be prepared 11 new technical regulations in the field of safety: feed and feed additives; poultry meat and products of its processing; materials, in contact with food; products, for civil defense; high voltage equipment; nicotine-containing products; subway rolling stock, trams, etc..
The plan also includes development 42 changes to the adopted technical regulations.
Belarus is a responsible developer 12 changes in 10 technical regulations. Projects are at various stages of development.
So, drafts of amendments to technical regulations for low-voltage equipment and electromagnetic compatibility of technical means are almost ready for adoption.
A draft amendment to the technical regulations for perfumery and cosmetic products has been submitted for domestic approval, regarding the updating of individual annexes of the document.
Draft changes to technical regulations for machinery and equipment have passed the stage of public discussion, packaging, perfumery and cosmetic products and food product labeling. Now they are being finalized based on the feedback received..
The issue of submission for public discussion of draft amendments to technical regulations for lubricating oils is under consideration, toys and on the restriction of the use of hazardous substances in electrical and radio electronics products.
Traditionally, on the Day of Standardization and World Standardization Day, Gosstandart organizations in all regions of the country hold events of various formats. This year they are planned for about 100.
Business meetings, round tables, webinars with food organizations, light and other industries, small and medium-sized businesses on topical issues of the application of technical regulations of the EAEU, development of standards and specifications for products, metrological support, functioning of management systems will be held in Minsk, Slutsk, Baranovichi, Borisov, Bobruisk, Vitebsk, Gomel, Grodno, Kalinkovich, Lead, Mogilev, Molodechno, Pinsk and Polotsk.
Business entities and individual entrepreneurs will be able to get answers to exciting questions through direct telephone lines, open days, information hours. There will also be excursions for schoolchildren, university and college students.
The main goal of these events is to draw attention to activities in the field of technical regulation and standardization., improving the quality and competitiveness of domestic products, and also reflect the role of standards in addressing issues relevant to society.
Press service of Gosstandart,
wire. 269 68 28