Boots on legs
In the last days of autumn, on the eve of winter, everyone strives to acquire a beautiful, comfortable and warm shoes, to be ready for winter walks along the city streets and not only. but, not all consumers pay attention to the quality and practicality of shoes, guided only by fashion trends.
In order to protect the life and health of children during control and supervision activities in shopping facilities of the Grodno region, as well as in online stores, Grodno Regional Inspectorate of Gosstandart pays special attention to the issue of compliance with the requirements of the technical regulations of the Customs Union "On product safety, for children and adolescents " (TR TS 007/2011) when selling winter footwear for toddlers – children from 1 years before 3 years old.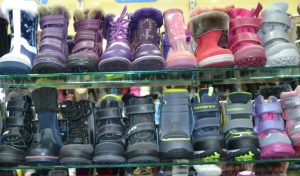 As a result of the measures taken,, that the proposed for sale shoes for toddlers, and these are shoes with sizes 105 mm to 140 mm (metric size) or from 17 to 22,5 (bulk size), did not meet the established requirements of the above safety regulations (paragraph 2 articles 6), namely: according to the marking provided, artificial fur was used as a lining, and the upper material is artificial leather, is not allowed. Besides, according to the requirements of the technical regulations, in winter shoes for toddlers, the bike must also not be used as a lining.
Based on the results of control and supervisory measures, the requirements of regulatory documents were explained to the owners of retail facilities, and also issued prohibitions on the sale of inappropriate products, which was later removed from implementation.