Sunflower seeds "second hand»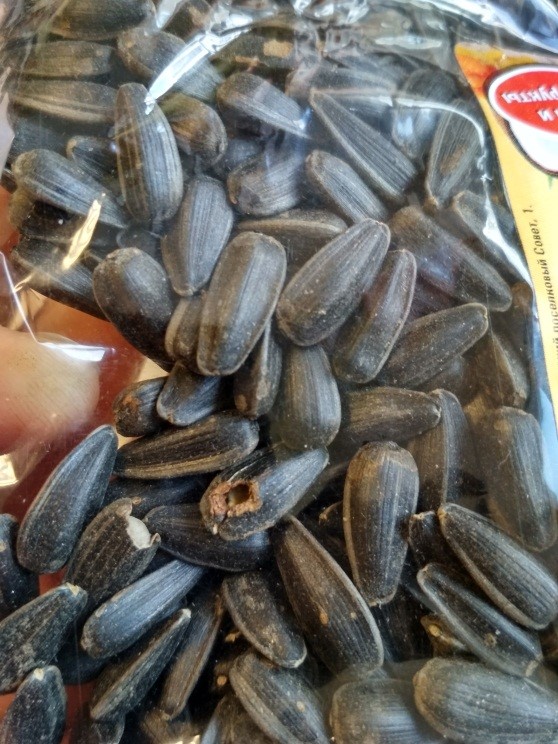 Specialists of the Grodno Regional Inspectorate of Gosstandart are constantly checking the subjects of trade, where food samples are taken for research.
So, eg, unrefined sunflower seeds came under control in a trading facility of Lida district, net weight 500 g, manufacturer Russia, packed in the Republic of Belarus. Seeds sold in transparent packaging, and their appearance attracted the attention of inspectors, since all products have been damaged, "Eaten up" by insects.
After conducting research in an accredited laboratory of RUE "Lida CSMS" a confirmation was received, that the tested sample does not match the intrinsic normal color of sunflower seeds, there were numerous husk damage (shell) and nuclei (a seed).
The reason for this condition of the product is damage to the seeds by insects.. As, no insects or their remains were found in the packaging, hence, данные повреждения произошли в результате не соблюдения условий хранения перед упаковкой семечек. Technical regulations of the Customs Union, Eurasian Economic Union "On food safety" (TR TS 021/2011) obliges all manufacturers пищевой продукции соблюдать требования по условию хранения пищевого сырья и продукции.
Based on the results of the inspection, the packer of seeds was sent an order to withdraw them from circulation, Gosstandart inspection informed at the location of the packer, for taking measures in accordance with the current legislation of the Republic of Belarus.
You can recommend to the consumer before buying any seeds, good view content, if food packaging is transparent. Pay attention to the crop year (if specified, this can allow you to sort out how long the seeds lay in the barns), or date of manufacture (how long they were dried or "fried", etc.).